The past few days must have been very difficult for everyone. From our production to business, or simpler things to communicate, there are different obstacles and quite a lot of limitations.
But not so that vCyber ​​is separated from customers and partners. vCyber ​​has chosen for itself a more creative direction to be able to provide the latest information as well as relevant information to customers and partners. Create a series of periodic webinar events to break the distance limit and all information can be updated – support in the best way!
Webinar January 29, 2021
During the ongoing epidemic, many forces are prevented because they cannot function at their best. But in the current technologically developed era, when people can be interrupted by external factors, other objective factors can completely function normally. It is a network environment that links information between devices stored and transmitted across network systems.
Realizing the importance of the event on vCyber, we created an online seminar to bring information – knowledge as well as solutions to partners and customers to ensure an invaluable asset of the business. business is still stable and operating normally.
The conference is held online without affecting health and is very convenient for guests, partners and customers to interact easily through online.
With this conference, vCyber ​​brings information about OPSWAT's solution
With advantages such as email get way security and critical infrastructure solutions, network infrastructure as well as banking and electricity and energy, businesses that need to protect data ….consider consumer behavior on social networks festival.
In this cooperation, vCyber ​​cooperates with consultants from HTECH CTY (MR.TRI)
with IDA content and prevent data loss from within.
Content carries information from enterprise threats such as: MALWARE external threats and internal threats
The guests attending, better understand the causes as well as the effects due to the use of equipment used by employees, the influence is quite high and directly affects the business…. Through that, Enterprises can define and decentralize rights to use, copy and transmit data in the most secure way.
The information and scope of the solution was presented specifically by Mr.Tri about the cases as well as for the attendees to understand each item and dive into the knowledge that the attacks are difficult to understand. .
With the second content, Consultant Mr. Su Chan Hoai Bao shares specifically about OPSWAT Email Security Approach so that customers can better understand why advertising spam is not classified as spam whether they contain it. malicious components or not? whether those emails, when opened, will affect the information and data on the device being received if it is not protected and against data loss.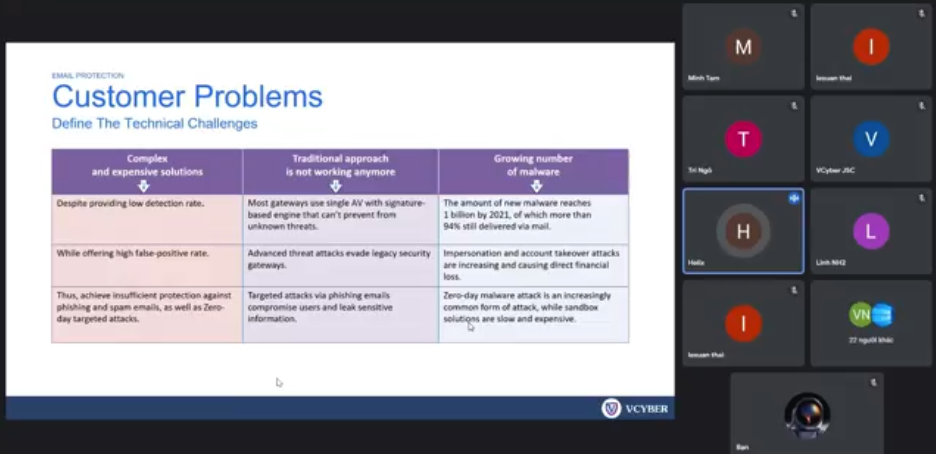 Content interpretation and practical presentation are among the priorities that vCyber ​​wants to give attendees an overview and a deeper understanding of each solution that vCyber ​​offers.
Throughout the process, guests can ask questions directly as well as questions will be supported and answered by a team of consultants and consultants with extensive experience. The conference lasted for more than 90 minutes, giving visitors a new experience in cybersecurity as well as solutions that other businesses are using.