Topic: "PROTECTION OF DIGITAL RESOURCES AND SAFETY STRATEGY, NETWORK SECURITY FROM NEW GLOBAL CHALLENGES"
Information Security International Conference and Exhibition (ATTT) in the South in 2022 with the theme Protecting digital resources and strategies Cybersecurity and safety in the face of new global challenges by the Information Security Association Vietnam – The Southern Branch in collaboration with the Information Security Department – the Ministry of Information and Communications, the People's Committee of Ho Chi Minh City, the Department of Information and Communications (TTTT) of Ho Chi Minh City… co-organised, which is the event. Important events attracting the attention of scientists and technology in the fields of Information Technology (IT) and Information Security (ATTT) as well as the attention of leaders of agencies and businesses that are implementing solution for comprehensive and continuous monitoring of information security status of data centers, information technology systems and office networks at central state management agencies and in the southern provinces.
The Southern Regional Information Security International Conference and Exhibition in 2022 is an opportunity for domestic and foreign experts, scientists, application units and IT and information security product and service providers to share experiences, knowledge in the field of security and information security, is a place to introduce new technological achievements to provide an overall picture of security holes, threats and risks of Information Security. information to detect and promptly handle incidents in the fastest time.
vCyber ​​cooperates with partner ThreatQ to participate in the ATTT International Conference and Exhibition in the South region in 2022 as a gold sponsor. Coming to this event, vCyber ​​brought the event with the content: "Critical ingredient for an effective SOC: Threat Intelligence Platform" presented by Mr.Robert Streamer – APAC Region Director for ThreatQuotient
Along with activities in the conference area with many content from different speakers, vCyber ​​also created its own area to provide information and advice to event attendees with sponsored gifts. by partner ThreatQ
vCyber's area has attracted many brothers / sisters from many different departments – fields. After consulting the basic information as well as updating the information of those interested in the main solution this time vCyber ​​brought to the event. vCyber's technical and consultant team will officially contact and support all information so that you can have the most complete information about this solution model.
In addition, the area of ​​vCyber ​​has attracted many brothers/sisters with many years of experience in the field of information security. vCyber ​​is very happy and honored to welcome you in this event.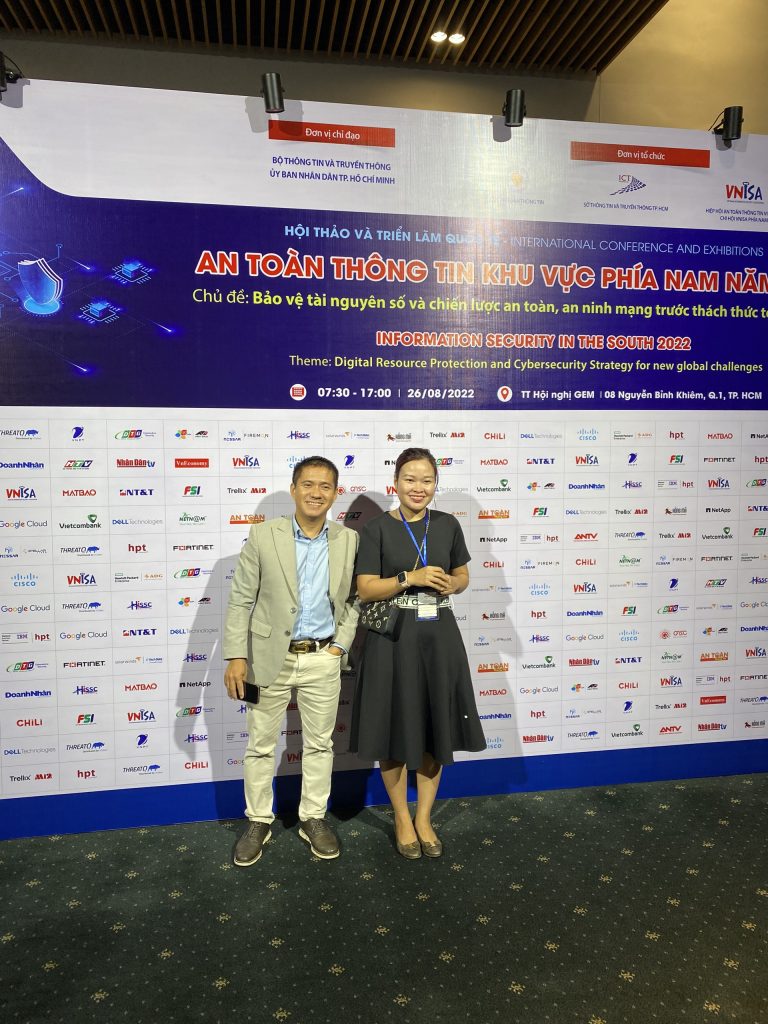 Some other pictures at the event, vCyber ​​would like to send to you guys
And once again, vCyber ​​is very pleased to accompany the ATTT Association (VNISA) in this event. Hopefully in the soonest time vCyber ​​can combine and organize events about ATTT – connect more with you.